Shandong Loyal Industrial Co.,Ltd.
Doritos chips making machine
Doritos chips making machine adopts second level drive and easy operation characteristics. Dorito machine can take corn powder, corn starch, potato starch, cassava starch, wheat flour and other high starch materials as main materials(which was easy to be find anyway)After be extruded, compounded into triangle, round, square shapes. After fried and flavored, the final doritos will be crispy and tasty like the brand in the market, doritos and tortilla. Loyal's dorito shape machine is using new roller pressing method which forms nice shapes and no wastage during the process. Beside, Fried triangle chips consumes less oil than other fried snacks, it could save up to 30% of oil. So this processing line can maximumly lower the production cost.
Whats snack does doritos chips making machine can make?
Doritos chips process machinecan be used for producing many kinds of pellet chips snacks food, such as bugles,screws,shells, chips, tortilla, doritos and so on.According to customers' special demand of the final snacks products, we can offer different configuration lines. The biggest advantage of tortilla chips is its cute shape and crispy tasty .
Why choose loyal's doritos chips making machine?
1) Adopt second generation extrusion technology, high efficiency, savin energy..
2) The linear structure is simple and easy to install and maintain.
3) The motor and gear box are directly driven to reduce energy consumption.
4) Frequency converter regulates speed, runs smoothly, consumes low.
5) The screw is made of alloy steel , long service life.
The assembled screws are suitable for more materials and products
6) Automatic lubrication system,reduce energy consumption and extend the service life.
7) Environmental protection--No air pollution,No water pollution.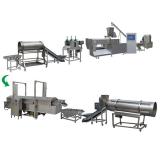 Food & Beverage Shops, doritos corn chips making machine
Video technical support, Online support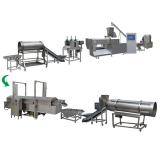 tortilla chips Food & Beverage tortilla chip Shops
Video technical support, Online support