As Pet Food Extruder Machine manufacturers had designed High Quality Twin Screw pet Extruders used for pet food and fish feed production, developed and tested. The major components of the machine included the feeder hopper, the conditioning chamber (can be choose), the barrel that was a screw member housing and the screw with the die and die holder fitted at the extreme end of the barrel.Twin-screw pet extruder process is mainly composed of a barrel housing and screw, fulfilling extrusion operation together with a die and cutting assembly. The twin- screw pet extruder is characterised by its wide adaptability, sliding conveying in the barrel and self-cleaning function, etc. The twin-screw extruder is usually applied in the production of petfood and fish feed.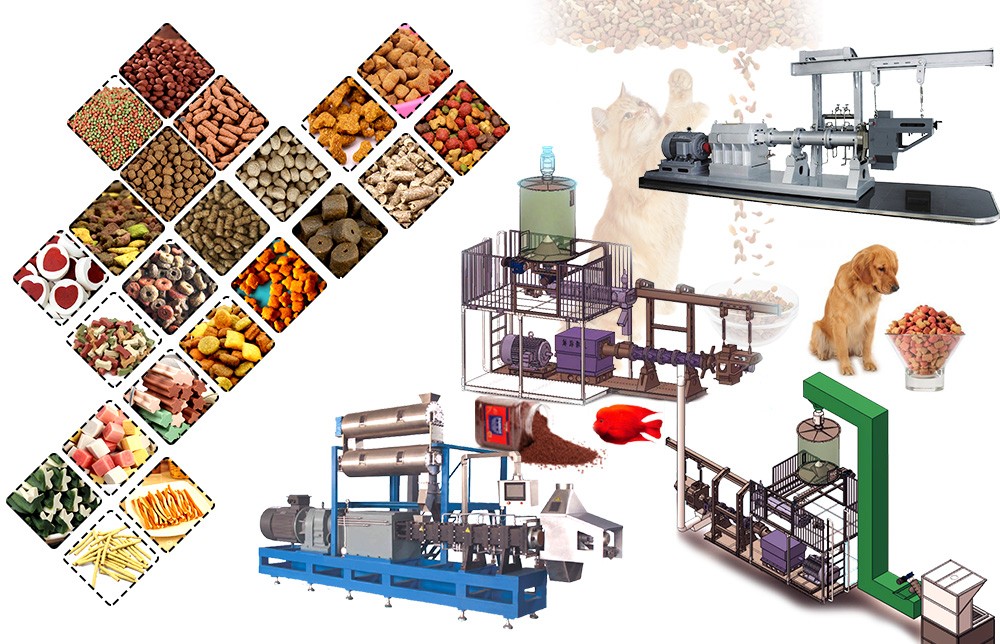 Technical Parameters OF PET food extruder FOR SALE
DIFFERENT MODEL OF DOG FOOD EXTRUDER MACHINE FOR SALE

Model

Installed Power

Power Consumption

Output

Size (L*W*H)

PFE-65-1

47KW

30KW

180kg/h

3500x950x1850mm

PFE-70-1

53KW

37KW

200-250kg/h

3200x760x2000mm

PFE-85-1

99KW

75KW

500kg/h

3800*1100*2350mm

PFE-75-2

98KW

75kw

200-500kg/h

5200*1100*2800mm

PFE-95-2

142kw

110KW

600-1200kg/h

6400*3000*3000mm

PFE-115-3

142kw

110kw

2T-3Tg/h

6400*3000*3000mm

PFE-130-3

200kw

170kw

4T-5Tkg/h

6400*3000*3000mm

Applied Products:Cat food, Dog food, Bird fodd,fish feed, ,Shrimp feed, Floating fish feed, Tilapia pellet,Sinking feeds,Turtle feed,Crab Feed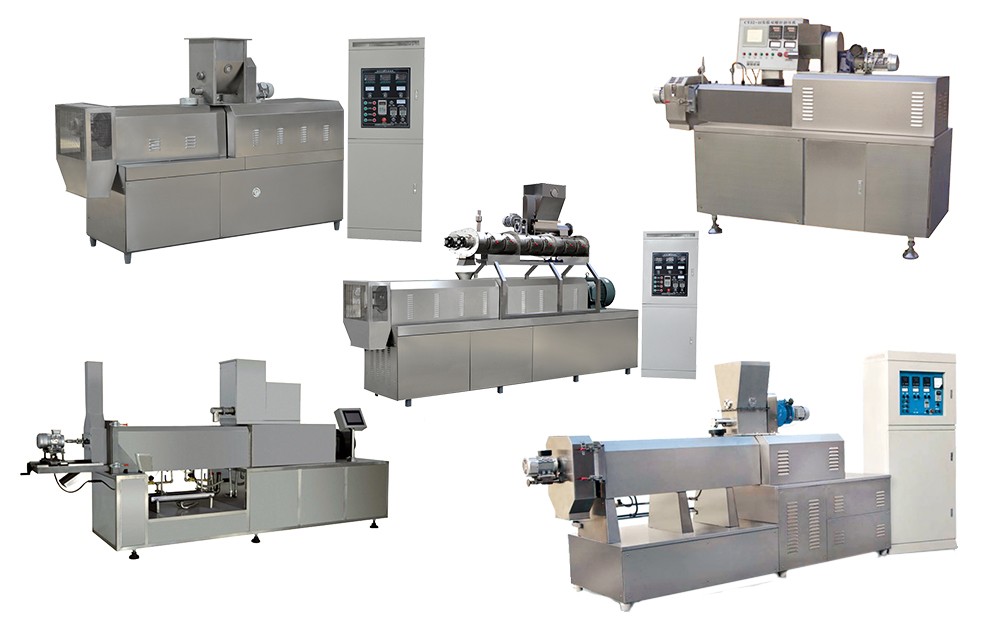 SINGLE SCREW pet EXTRUDER vs. DOUBLE SCREW pet EXTRUDER (Co-Rotation)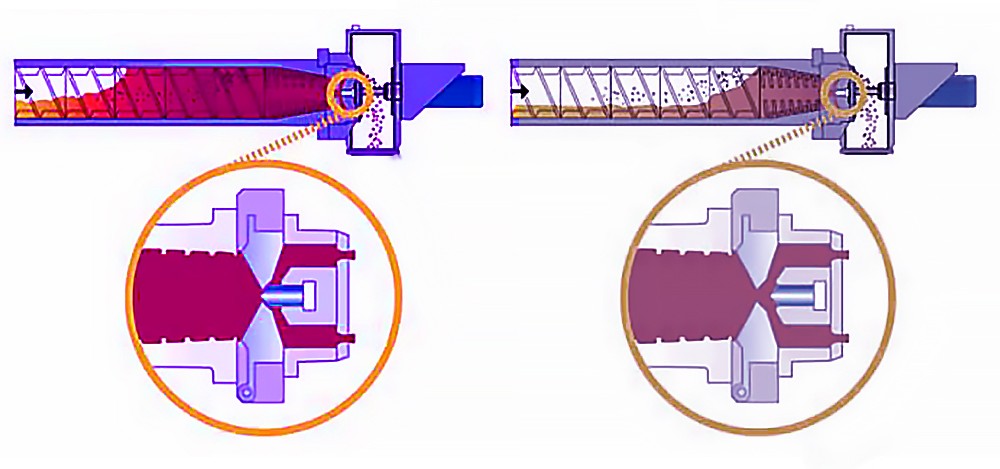 | | | |
| --- | --- | --- |
| Item | SINGLE SCREW EXTRUDER | DOUBLE SCREW EXTRUDER (Co-Rotation) |
| Conveying manner | Feed mash is conveyed forward by friction | Feed mash is forced to solid forword |
| Felf cleaning function | unavailable | Excellent self-cleaning performance |
| Running | Stable and occasional blockage | Stable and reliable |
| Heat distribution of feed | No-uniform | Uniform |
| Ingredient adaptability | Common | Wider (inel. Ingredient rich of moisture and fat) |
| Moisture content of ingredient | 10-30% | 5-95% |
| Product variety | Limited | Various |
| Capacity | Common | Relatively High |
ONE KIND OF BIG CAPACITY TWIN SCREW EXTRUDER FOR PETS FOOD AND FISH FEED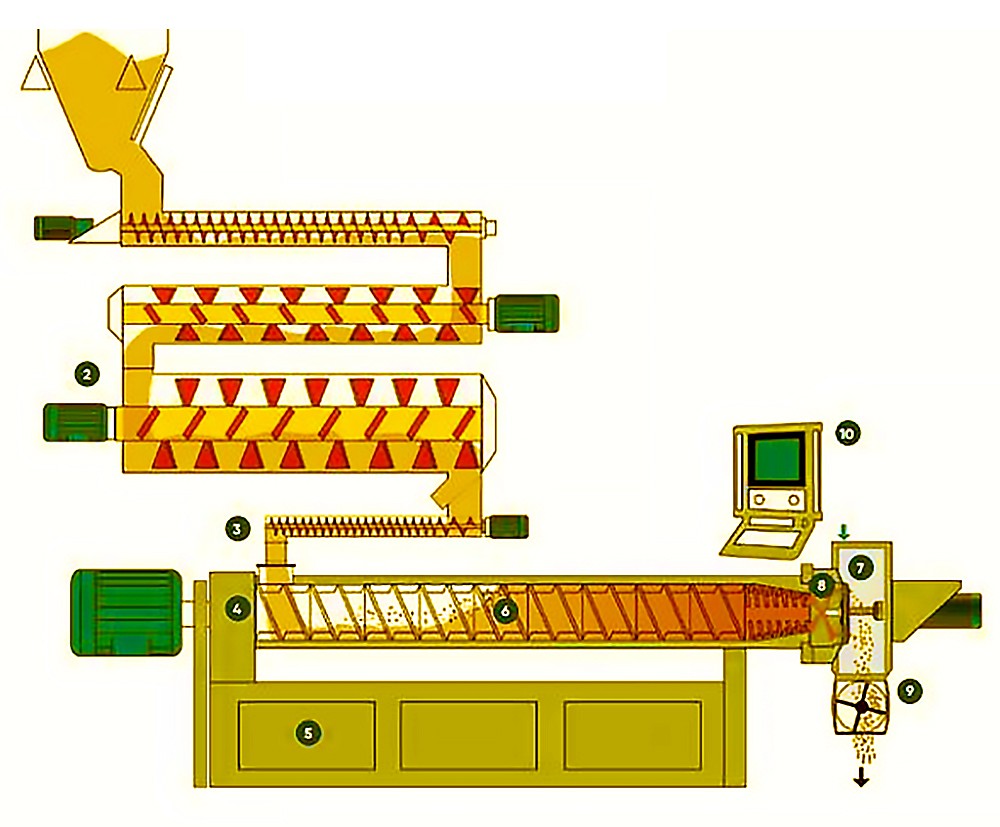 HIGN CAPCITY PET PET EXTRUSION MACHINE STRUCTURE

1.Feeder Hopper

2. PRE-CONDITIONING

---Flexible retention time depending on product requirement

--- Constant high mixing efficiency whatever the retention time

--Optimal starch cooking through high mixing efficiency

3 FORCED FEEDER

--Avoids blockage between conditioner and extruder

4 Gear Box

-- Gear or belt drive ensuring even higher efficiency

5 EXTRUDER CHASSIS

--can choose steam heating and liquid adding system

6 SCREW AND BARREL

---screw and barrel configuration, which can be tailor-made for each application

7 CUTTING SYSTEM

---Standard stanley knife blades

8 DIE HEAD SYSTEM

---DIfferent Die choose

9 COOLING FAN

--control of cooling product not be sticked

10 PLC CONTROL FOR CHOOSE

---We accept customization control box, custom can ask twin screw extruder adopts more advanced electric controlling system, as PLC extrusion computer or cabinet. All of the main parameters of extruder, like current, voltage, temperature, torque, rotate speed, can be easily found in the extrusion computer or cabinet.