Pet Food Suppliers Operation Fish Feed Extruder Machine For Sale
The material enters the dog food production machine, and the screw pushes the material to form an axial movement. Due to the mechanical friction between the screw and the material, the material and the barrel, and the inside of the material, the material is strongly squeezed, stirred, and sheared, and the material is further refined and homogenized. With the gradual increase of pressure, the temperature rises accordingly. Under the conditions of high temperature, high pressure and high shear, the physical properties of the material change.
When the paste material is ejected from the die hole, under the action of a strong pressure difference, the material is puffed, dehydrated, and cooled. The structure of the puffed product is loose, porous, and crisp, with good palatability and flavor.
ANALYSIS OF THE REASONS FOR THE INFLUENCE OF PET FOOD MANUFACTURING EQUIPMENT PROCESSING QUALITY
Extruded pet food processing quality control

Influence link

Critical control point

Specificfactor

Raw materials recipt

Physical and chemical properties of raw materials

Material pretreatment

Formula ingredients

Raw material expansion coefficient

Remove impurities

Starch, fat, crude fiber value

Process equipment

Machine structure principle

Process equipment configuration

Extrusion die hole parameters

Aspect ratio

Crushing, screening, drying, spraying

Die hole structure, die hole area

Extruders operation

Water and steam addition

Output screw speed

Temperature and pressure control

Product particle diameter, appearance color

Filling degree, residence time control

Gelatinization degree, puffing degree control

Others

Novice operation

Equipment wear

Pre-job training

Maintain screw barrel and mold
THE WEIGHT RATIO OF MAIN LINKS AFFECTING THE QUALITY OF FEED PROCESSING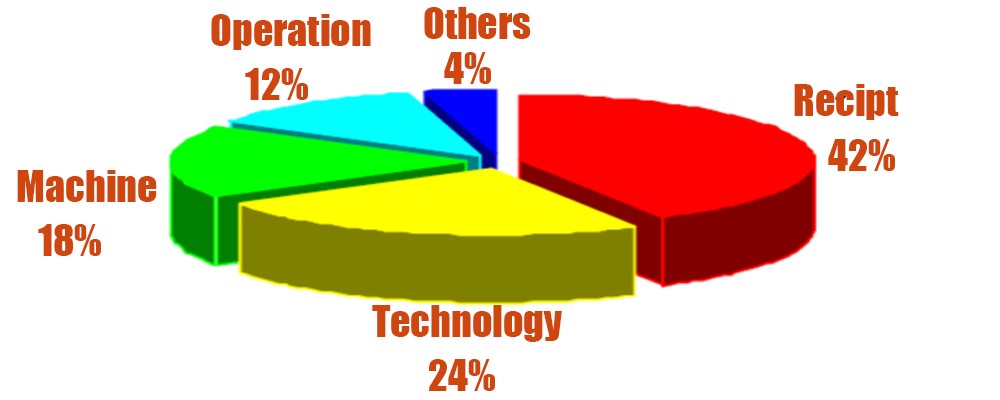 WATER AND STEAM PRESSURE SETTINGS OF FISH FEED MAKING MACHINE
1. Water supply pressure:

①

Conditioner: 0.4Mpa.

②

Expansion chamber: 0.4Mpa.

③

Interlayer of puffing cavity: 0.4Mpa.

2. Steam pressure:

①

Conditioner: 0.20~0.25Mpa

②

Expansion chamber: 0.50~0.60Mpa

③

Interlayer of puffing cavity: 0.50~0.60Mpa
RELATIONSHIP BETWEEN THE OUTPUT OF THE FLOATING FISH FEED MACHINE AND THE DIE

CALCULATION OF DIE HOLE AREA OF FLOATING FISH FEED EXTRUDER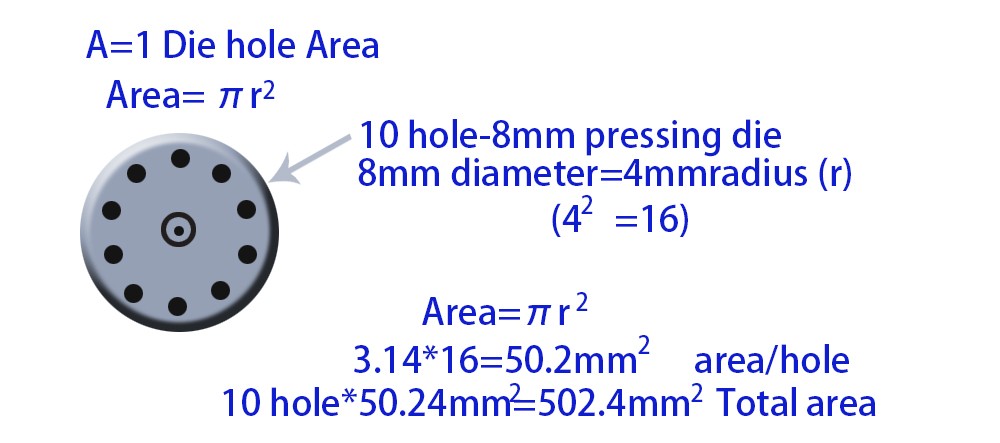 Relationship between opening area and output
Floating aquatic puffing material:
200~250mm2/per ton hour output (varies according to formula changes)
Sinking fish feed materials:
550~600mm2/per ton hour output (varies according to formula changes)